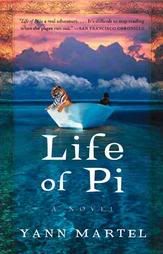 What is it with the dry season and books?

I've been a voracious reader these past two months, first, Jack Kerouac's "On the Road" a hitchhiker's bible to satiate my botched Galera trip alone (and I mean by my lonesome, no wife or kid attached); and Yann Martel's "Life of Pi" which I read halfway through while being stranded at the Ayala Terminal for two hours after the thunderstorm last Tuesday, consummating it at 2AM today. Then there was the printout of Jeffrey Ford's "The Empire of Ice Cream", a short story about a strange case of synaesthesia, which I started at the Cabuyao exit and finished by dusk at Magallanes. And by tonight I am planning to snag Haruki Murakami's "Norwegian Wood", but it seems that fate is playing up my climax with Jhumpa Lahiri's "The Interpreter of Maladies" because I've searched high and low and not a copy is in sight.

My record though, was Michael Crichton's "Jurassic Park" which took me a single night after a summer class. Then there was Harper Lee's "To Kill A Mockingbird" which is a record-holder on its own too. I read the book four times in three summers, and that was after the required high school reading, so make it five.

There were also notable post-read headaches, real headaches that made the devil want to get out of my eyes: Ben Okri's "The Famished Road" and Umberto Eco's "Foucault's Pendulum." I hardly touched Eco's "The Name of the Rose", Anne Rice's "Interview with a Vampire" and Stephen Hawkings' "A Brief History of Time". Seeing the first two on film lessened my appetite, or it may have transferred to the termites back in our family house in Fairview. They barely ate Okri, though.

I perused Gabriel Garcia Marquez' "One Hundred Years of Solitude", Isabel Allende's "The House of the Spirits", F. Sionil Jose's "Viajero", Bienvenido Santos' "The Man Who (Thought He) Looked Like Robert Taylor" and Edilberto Tiempo's "More Than Conquerors" in bed, taking occasional breaks for pee and food. There must be a commonality somewhere between colonial legacy and reading in bed.

Only Franz Kafka's "The Metamorphosis and Other Stories" made me get up for fear of becoming a bedridden insect.

Then there were Dana's Manual of Mineralogy, R. Schuhmann's "Metallurgical Engineering", Van Vlack's "Elements of Materials Science and Engineering" and Robert Walpole's "Probability and Statistics for Engineers and Scientists" which I turned from cover to cover like novels for the August board exams of 1998. It's like reading a survival manual for the nth time because there is no Powerbooks in the middle of the Pacific.

There were also the cool ones, and by cool I mean the opposite of warmth. Not "kewl" cool, but cool cool like sipping sinigang sa kamias broth on a hot afternoon by the irrigation canal of our rice paddies, blending my body temperature to that of the surrounding mountains, and purging my internal heat in obedience to the laws of thermodynamics. There was Alan Brown's "Audrey Hepburn's Neck", Tracy Chevalier's "Girl with a Pearl Earring" and Arundhati Roy's "The God of Small Things." And Xaviera Hollander's "The Happy Hooker" too which literally kept me in water to hide a lustfully evil evidence.

There really must be a correlation between hot weather and my bibliophilic appetite. TV and DVD's are not a viable option, as heat is generated and walking to the player alone is a chore. And besides, my eldest son has claimed his part of the territory including the TV for his daily dose of Elmo and Teletubbies. He's the Richard Parker to my Pi Patel in our lifeboat on the foot of Tagaytay. In my biological program on these balmy days, energy dissipates quickly that moving an inch will waste my valuable calories away.

There is always the eternal itch to wander into parallel universes without sweating an ocean in me, and with reading, not a shot in the mercury could stand in my way.