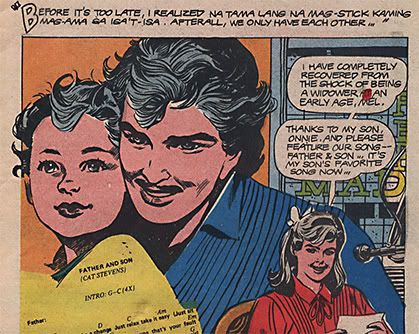 I admit that I am a packrat, and while wading this weekend through boxes of memorabilia looking for "songhits" that I can source out pop 80's lyrics to post again (I still haven't seen a decent Rico Mambo tab), I came upon Platinum Songhits, this one dated 1987. We all knew for a fact that
komiks
ruled the afternoons after
Heredera
or
Annaluna
, especially in provinces where RPN9 was the only channel, and during long brownout spells when they also served as cooling devices.
Come to think of it, Filipinos always have a hand on innovation. Where else in the world can you request a song, submit your life story and see it go live in the pages of a song book? I know that Platinum is not the only one who exploited this avenue. I remember "Lovesongs" which combined the quirks of komiks and songhits in full, fusing the Filipinos' passion for theatrics and music.
Sa'n ka pa?
I wasn't able to get the name of the komiks/songhits (komhits? songmiks?) illustrator because it's not in the byline, but the name Cal Sobrepeña is stuck at the back of my head.
Visit the Philippine Comics Art Museum
here
, maintained by
Gerry Alanguilan
.